Caught a couple good sessions in the
TLA Net Fair
area -- exhibitions hall.
Todd Humble
of North Richland Hills talked about implementing RFIDs in the collection -- really good talk, really practical, pragmatic info. He raised the issue of read/writable tags and data swiping, which is a real worry if you go for the 'smart' library cards for your patrons (his system was wise enough not to). This guy's the real deal, right down to grinding down the surfaces of discs in order to make sure that 100% -- yes, really -- of the collection was tagged. From scraping and photocopying, creating faux covers, to foiling foil, Todd knows his stuff.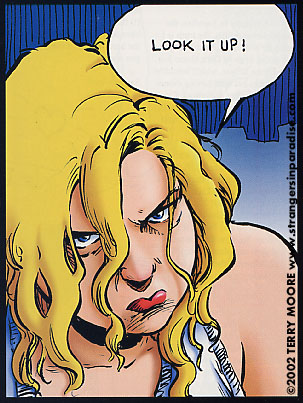 Second session was on Second Life. Ms.
Lorin Fisher
gave a good introductory talk on Second Life, Second Life Library (
infoisland
, or info archipelago now?), and the particulars of doing reference service in SL. I asked her abt making use of SL in the here/now of my community's daily, RL reference needs. I remain unconvinced that SL librarianship has much at all to do with RL service and getting the information to the people, despite the excellent points she raised about meeting professors teaching in SL on their own pedagogical turf. (I know of one prof teaching an anthropology course in SL at my college, but there are probably more doing it.) I just don't yet think SL serves the mass of us. I can't help but see it as a "wow, ain't this cool!" tool for the info-elite who have the luxury of time to romp around being a dinosaur-fairy-goth-robot in wonderland. But. That's not to say SL lacks
potential
, and I think Ms. Fisher did a good job in asking us to think about what that potential could be.
Otherwise, played some wii nintendo bowling (my first wii experience ever) at the HighSmith booth. They told me pretty things about library furniture and gave me a plush lizard. Actually, their tables look like the best for our hypothetical (hopefully this summer!) game night needs, unless we rig something up homebrew by trying to laminate our own table tops.
Another good day at TLA, despite being spammed to shop at the scooter store by some guy in the hall (pushed a card out right in front of me whilst I was walking. I was like 'what's it for', he was like 'the scooter expo', i was like 'not interested', kept walking. the
expectation
that people will take what you put in front of their faces just because you have the nerve to stick it in front of them is insulting -- and now that feller knows it don't work on us all), and slight hassling about my lacking badge when I first came in (well mister, you better go back to your truck to get it)... fair enough.
(aside, the pic of
Ms. Yarrow
has a story, and it has to do w/
Meg Cabot a little bit
... no time now tho).
**edit: to say, that pic ain't from Transmet! my goof -- it's Katchoo, right?**